Price check
Monitor the prieces of your competitor and get flexible and efficient in your price calculation.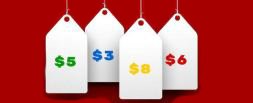 Always wanted to know when the competition changes their prices? Would you like to find out who offers the best price from the multitude of providers?
Create your own scrooge – your own specially-tailored price comparison. Prices are extracted from different web pages and edited for you.
Determine at a glance:
whose prices are best
which prices have changed
You'll always be a step ahead of your suppliers.
For a customer a product price research was implemented.
From prefedined websites (amazon, …) all current product prices are extracted. As a key to identify the product the name or the product key is used. The extracted data is transferred in the in house CRM system. Based on competitor these prices the own product pricing is set up.
The process can be started by the customer when it is needed and the data is delivered within a short timeframe, depending on the number of products which should be monitored.